This article is also available in German.

When an unwanted drone enters your airspace, response time matters. DedroneTracker, Dedrone's software platform, automatically analyzes data from sensor inputs to detect, classify, locate drones.
Dedrone is proud to release DedroneTracker 4.5, providing updated design elements enabling the airspace security command-and-control leader to identify critical data and respond to drone threats in real-time. Key updates in DedroneTracker 4.5 include:
Updated design and user interface, delivering faster processing, easier and quicker access to drone data.
Reliable, easy-to-use location information with Google Maps. DedroneTracker with Google maps delivers higher map resolution, deeper zoom level, improved sensor location display, and overall performance enhancements through faster loading and map elements.
Complete redesign of PTZ and radar tracking and localization architecture: For Dedrone users integrating PTZ cameras and radar in their airspace security sensor stack, DedroneTracker 4.5 provides the fastest data processing, improved PTZ target assignment logic, enhanced RF position filtering, and upgraded sensor data processing and filter


Tracking and protecting points of interest with enhanced details on drone target location:
DedroneTracker 4.5 intelligently detects, classifies, and locates drones by fusing data collected from smart sensors, including Dedrone sensors RF-160 and RF-360, PTZ cameras, and other sensors. Once the PTZ cameras have detected the drones using external position information (e.g. RF sensors), they maintain the drone target tracking, even across varied backgrounds, including mountains and trees - as seen below.
Additionally, DedroneTracker 4.5 provides new details on the targeted drones. DedroneTracker 4.5 goes beyond existing 3D location capability, now adding "reach in time" – the duration of time and distance until the target reaches a critical point of interest.
Provides proprietary access to the most sophisticated, comprehensive drone signature and analysis library, DroneDNA
The challenge of unwanted drones at protected sites is complex and unique and will continually evolve as more drones come to market and as drone regulations and laws advance. DedroneTracker 4.5 stays ahead of the drone threat by completing smart assessments of airspace activity through a proprietary library of images, DroneDNA.
DroneDNA is Dedrone's cutting-edge, AI system that recognizes drones of all kinds. Images are taken from a continuously growing collection of thousands of drone alert videos that are captured at real deployments around the world.
With DedroneTracker 4.5, DroneDNA is now able to identify almost 250 individual drone types, covering over 60 different manufacturers, and eliminate false positives, such as birds, planes, and other flying objects. Using millions of images, DedroneTracker 4.5 provides users access to the most sophisticated and comprehensive small drone classification engine to meet today's and tomorrow's drone threats.
Leverages Remote Identification data for greater situational awareness of authorized and non-cooperative drones: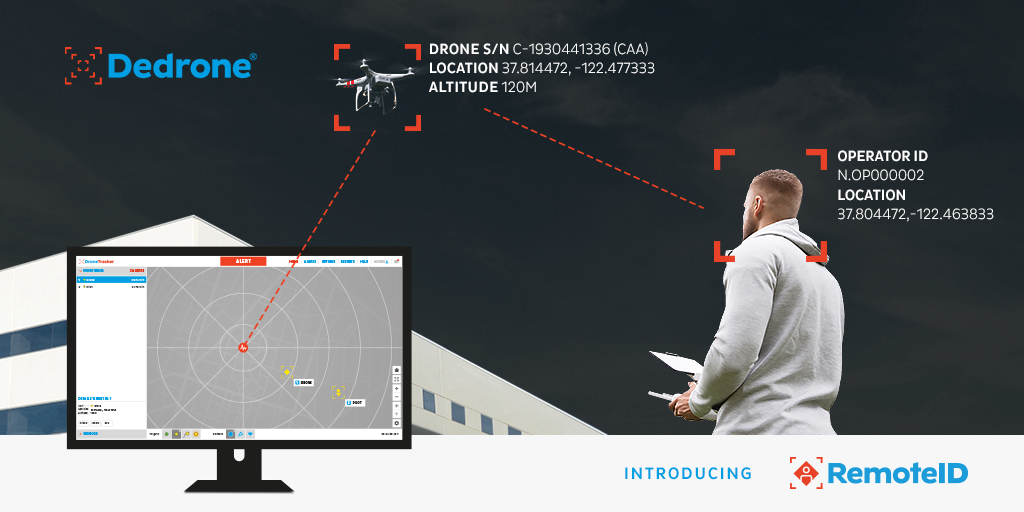 Government-led Remote ID requirements for drones mandate drone pilots to equip their drones to emit registration data, flight details, drone, and pilot location. Dedrone users can now access Remote ID data through DedroneTracker 4.5 to layer the information of friendly, approved drone flights.
DedroneTracker 4.5 displays all Remote ID information provided by a drone, including exact 3D drone position, speed and heading, drone serial number, pilot registration number and location, and flight status. All Dedrone sensors can receive Remote ID signals, accurately displayed into DedroneTracker, and automatically stored into DedroneTracker's airspace security reports.
Protect Against Drone Threats Today with Dedrone Smart Airspace Security
Airspace security technology is an emerging security market and is becoming a prominent issue as new regulations are implemented and drone incidents increase.
The challenge of unwanted drones at protected sites is complex and unique and will continually evolve as more drones come to market and as drone regulations and laws advance. Now, with DedroneTracker 4.5, security providers can take proactive steps to protect their people, property, and information before an incident occurs. The first step to create a smart airspace security program is to begin with DedroneTracker vulnerability assessment— and from there, scale and develop a smart security system that directly addresses an individual site's needs.
Learn more about how to get started with your Dedrone Smart Airspace Security program by contacting our team at sales@dedrone.com