The DedroneTracker software is continually updated to ensure our customers and partners are receiving the latest in sUAS threat detection and mitigation. DedroneTracker collects data from hardware sensors, including the Dedrone RF-160, RF-300, and other 3rd-party sensors such as optical and radar, to show a complete overview of the lower airspace activity. Dedronetracker includes automatic reporting features for security teams to continually advance their airspace situational awareness.
DedroneTracker 4.2, our latest version released in March 2020, boasts new features and upgrades and continues to provide actionable insights for security professionals to build resilience in their airspace and mitigate risk.
Key updates from DroneTracker 4.2 include:
1. Dedrone RF-160 Integration & Support
Dedrone's initial threat assessment radio frequency sensor, RF-160, was released in January 2020. The DedroneTracker 4.2 system update is optimized for integration with and to support the RF-160. The RF-160 can be easily installed within a few minutes and without any specialized IT knowledge, and begin immediately assessing airspace activity. A single RF-160 has an average detection range of 1.6 km, and under ideal conditions, up to 5 km for certain drones. DedroneTracker 4.2 applies information collected from the RF-160 giving early warning, detection, and classification of drones. Access to DedroneTracker 4.2 and RF-160 data is possible without a local network connection, but via a mobile data connection. ‍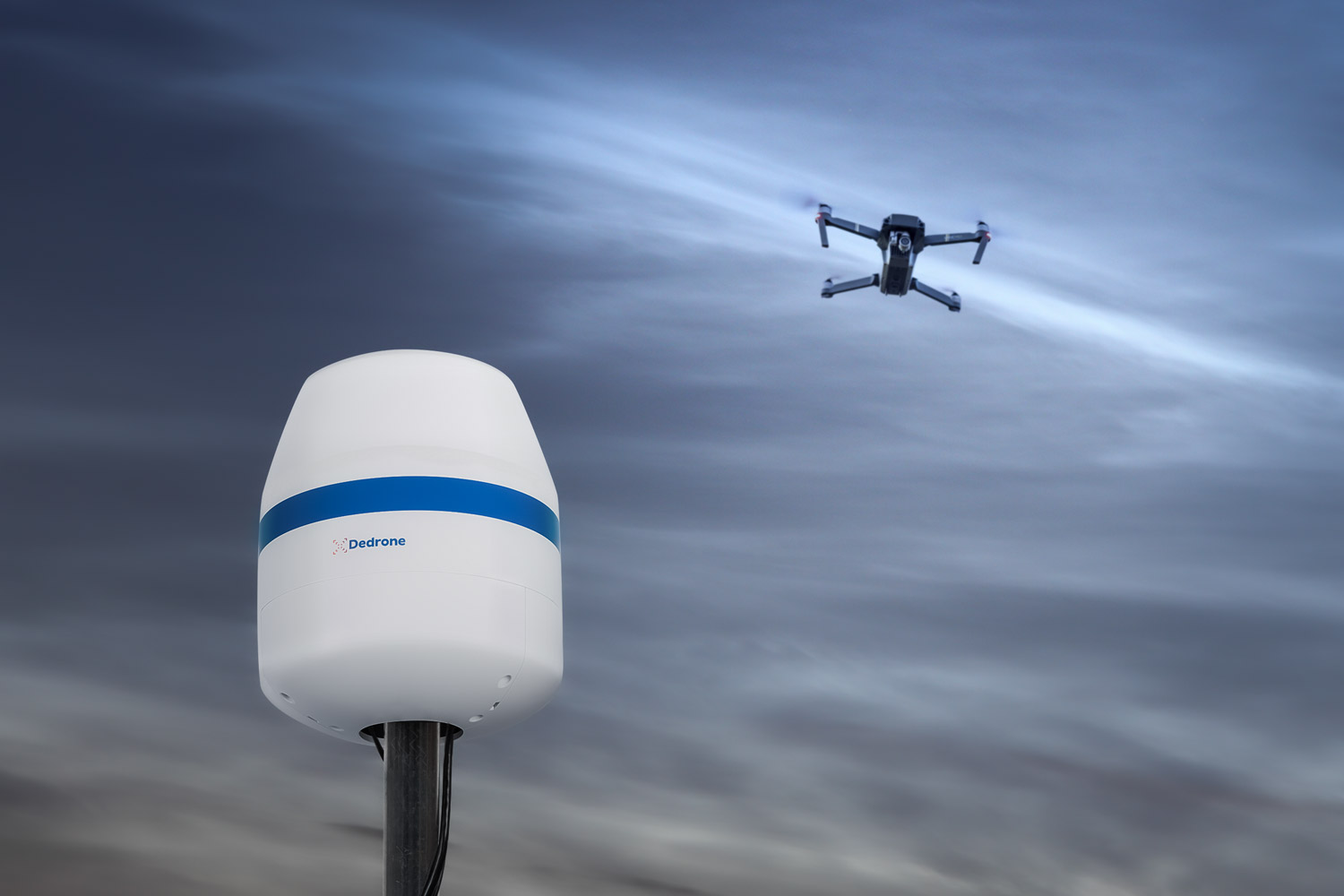 ‍
2. Mobile Interface for Coordinated sUAS Incursion Response
DedroneTracker 4.2 grants security patrol teams access to DedroneTracker conveniently on mobile devices. Patrol teams follow can follow live updates on DedroneTracker 4.2, including a view of drone activity and flightpaths. With a mobile interface, DedroneTracker 4.2 streamlines communication on drone alerts between command centers and patrol teams, allowing for teams to quickly coordinate efforts to investigate unwanted drone activity, and approach or apprehend uncooperative drone pilots.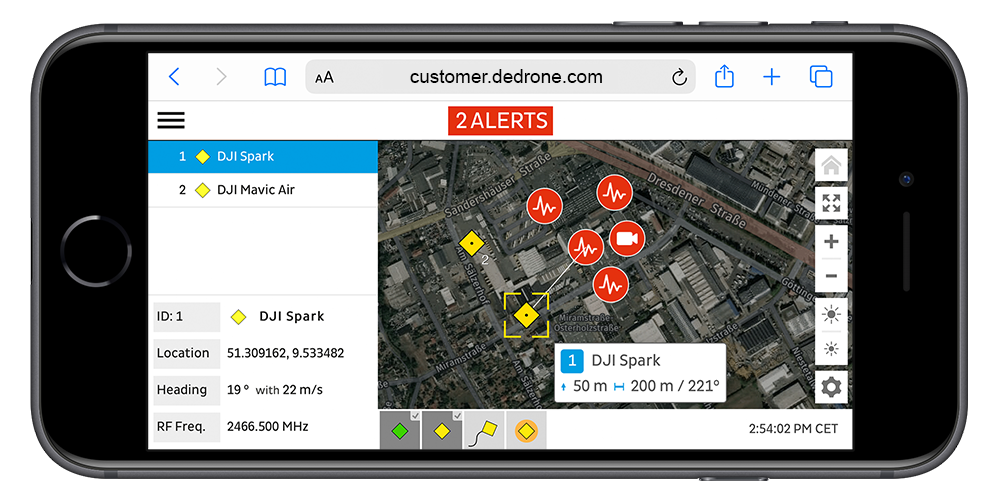 3. Customized Access to Alerts and Notifications
DedroneTracker 4.2 features a new option for security leaders to define which team members can receive alarm notifications, and at what times. For organizations with around-the-clock teams working in rotating shifts, DedroneTracker can now be programmed to share alerts only when certain team members are on active duty, or otherwise.
DedroneTracker alerts are sent via e-mail, SMS, or network message. Alarm notification rules can be created for both groups and individuals, such as managers or supervisors, and security leaders can decide what information can be made available to individual team members.

4. Analysis Reports Available Offline
DedroneTracker's automated reporting reveals information on airspace activity and patterns, including how many drones are in the airspace, time of day they appear, types of drones, and length of flight, among other data. These reports provide security teams meaningful, operational data to take action against drone threats. DedroneTracker 4.2 now includes a reporting feature for customers who, whether for access or security reasons, need to operate the system offline.
For more information on how you can access DedroneTracker 4.2, and the Dedrone counter-drone technology platform, contact us here. ‍