Many of Dedrone's European customers come to us with foundational questions about current regulations and laws related to drone flights. To provide more clarity, we are launching a three-part series on the subject of "Drones and European Law," from guest contributing author, Prof. Dr. Martin Maslaton. Laws are changing, and many organizations and individuals who use drones today may not be fully aware of how this impacts their businesses or hobbies. Prof. Dr. Martin Maslaton will provide Dedrone readers with a brief overview of key topics on drone laws in Germany, Switzerland, and the European Union.
According to European Union estimates, the European UAS sector will directly employ more than 100,000 people by 2035 and generate more than €10 billion annually. As the use of drones expands, there is a growing need to balance the associated benefits and challenges in terms of data protection, privacy, noise, and CO2 emissions. Additionally, drone pilots may not be fully aware of all airspace laws in their area and may find themselves unintentionally disrupting protected airspace. In the first part of the series, Prof. Maslaton examines the current legal regulations for the commercial use of drones in Germany and Switzerland and discusses EU-wide guidelines that will be enforced in 2020.
Overview of German Drone Ordinances and Flight Location Considerations:
Paragraphs 21a - 21f of the German Air Traffic Ordinance (LuftVO), which came into law on April 7, 2017, regulates the handling of drones in Germany. This law indicates the different requirements recreational and commercial pilots must follow, depending on the type of drone used, for what purpose, and where the flight occurs. While this ordinance is written to promote development opportunities for the commercial use of drones, it is also intended to regulate the recreational use of drones in the interests of public safety. Drone ordinances are balanced to support commercial and recreational drone pilots and are written to avoid unduly restricting the attractiveness of the hobby pursued by many. This ordinance refers to "drone," or also referred to as a "multicopter." In principle, drones that have a take-off weight of less than 0.25 kg may be operated without a permit, but only if the drone pilot operates within the visual line of sight. Heavier devices, above a take-off weight of 5 kg, are subject to a general permit requirement.
Here is a description of the law, as it is written:
When a UAS is out of sight is defined by the legislator in § 21b Sect. 1 sentence 2 LuftVO:
"Operation takes place out of the range of the controller's vision if the controller can no longer see the unmanned aerial system without special optical aids or can no longer clearly identify its flight attitude. Operation of an unmanned aerial system with the aid of a visual output device, in particular video goggles, shall be considered as not out of the controller's sight if such operation is performed at altitudes below 30 m and
the take-off mass of the aircraft does not exceed 0,25 kg; or
the controller can be immediately alerted to emerging hazards by another person who has the aircraft constantly in view and is observing the airspace.
The height limit of 30 metres is based on the assumption that a device weighing 0.25 kilograms hardly endangers people by simply falling from this height. ‍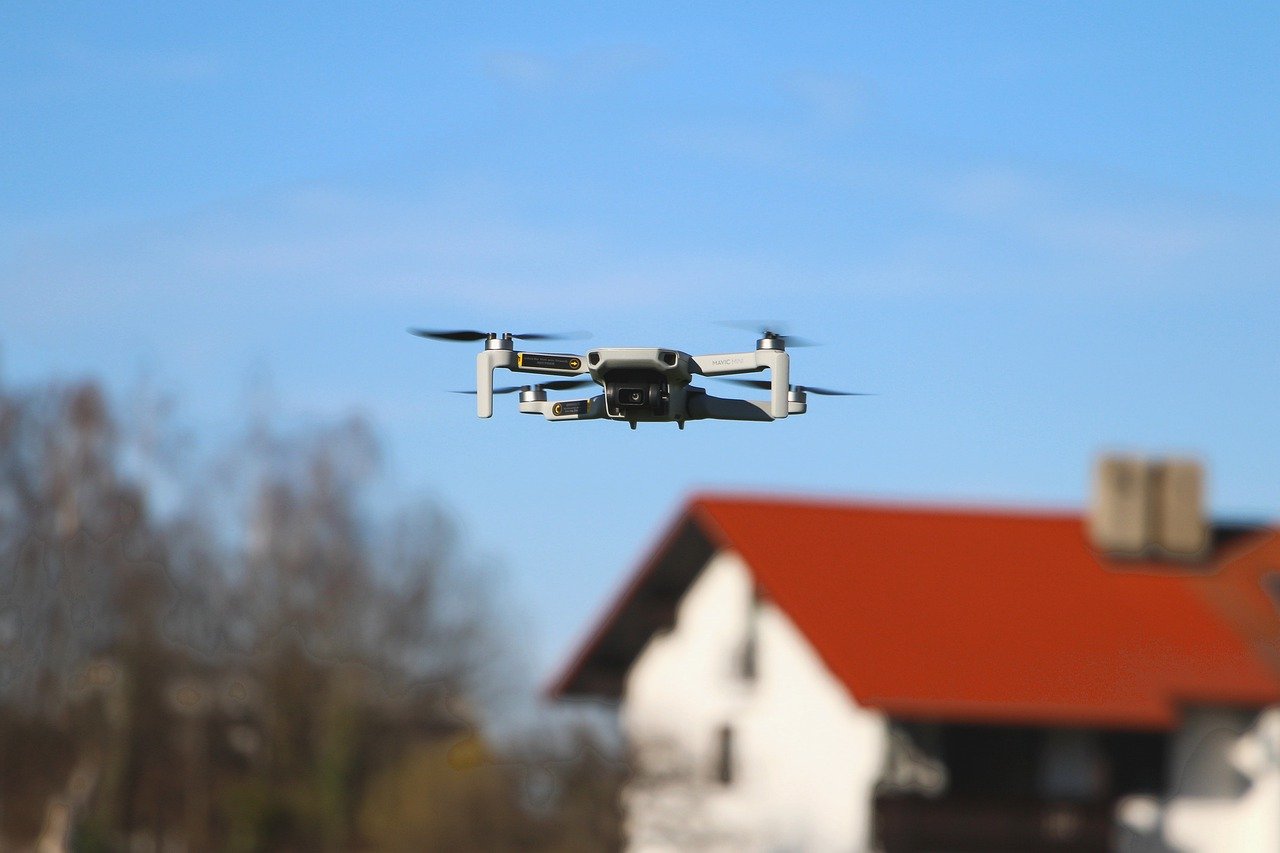 Additional Guidance on Drone Cameras Over Residential Areas in Germany
German legislation has also addressed the thorny question of the extent to which drones with powerful camera systems over residential properties impair the free self-determination of citizens. To this end, it stipulated in § 21b Sect. 1 No. 7 LuftVO that there is a ban on drone operations "over residential property if the take-off mass of the device is more than 0.25 kilograms or the device or its equipment is capable of receiving, transmitting or recording optical, acoustic or radio signals, unless the owner or other authorised user has expressly consented to the overflight over the respective residential property."
In brief: camera drones may only be controlled over residential properties after permission is gained from the homeowner or dweller.
The ban also applies to private property if third parties are affected or endangered by the operation of a drone. Since flight over private property of third parties constitutes the use of foreign airspace in the legal sense, this will always be the case in the case of an unauthorized overflight. In principle, whether with or without express permission, every drone operator is required to know and respect the rights of third parties, including when using his aircraft.
Which rights are affected by an overflight and which defense claims the owner is entitled to, will be addressed in a future Dedrone article.
‍
Drones Capturing Data and Protecting Subjects from Privacy Violations
Many small aircrafts have high-resolution cameras and allow detailed images of their surroundings. Therefore, data and personal protection must always be taken into account when using drones. Data protection law offers an additional standard for assessing the permissibility of UAS operations. If personal data is to be used for purposes other than personal or family activities, then the laws for data processing must be applied. Therefore, without the consent of the property owners, or subjects captured by the drone, there must be legitimate interests of the drone pilot, which are not to be overridden by any legitimate interests or fundamental rights and freedoms of the data subject.
‍
Switzerland: Overview of Key Drone Regulations
In Switzerland, the Federal Office for Civil Aviation is responsible for drones. Regulations on drone flights are laid down in the Ordinance of the Federal Department of the Environment, Transport, Energy and Communications (UVEK) on Special Category Aircraft. According to Swiss law, all UAS and aircraft models weighing up to 30 kg do not require a permit and do not have to be registered. However, they must always be flown within visual range or under visual contact. This also applies to autonomous flying. There is no general height restriction.
For drones with a take-off weight of over 500 grams, pilots must purchase liability insurance. In addition, there are restricted flight zones, such as airfields or nature reserves, where flying is only permitted or even prohibited with special restrictions.

European Union: Overview of Key Drone Regulations
On July 1, 2019, new European Union regulations for the use of commercial and private aircraft drones came into force, which are to be applied starting on July 1, 2020. The regulations are intended to achieve a standardization of drone use in the European Union. This should lead to more flight safety, more compliance, and understanding. At the same time, the European skies should be kept open for innovation. They should ensure the safe operation of unmanned aerial vehicles, but also facilitate the enforcement of personal rights. To this end, the regulation divides drones into different risk groups.
The category "Open" applies to low-risk flights and provides for a maximum flight altitude of 120 metres, for example. No prior authorization is required. Within this category, there are also so-called drone classes (C0 - C4). These contain different requirements for manufacturers such as specifications, prohibitions or approvals.
For UAS flights with a medium risk, the category "Specific" applies. Such flights, which must exceed one or more specifications in the category "Open", require prior official approval.
The "Certified" category regulates high-risk flights such as those in the transport sector. Such flights may only be performed by an approved company with licensed pilots and certified drones. However, it is still unclear how these requirements are to be introduced into national law.
‍
European Drone Law Outlook
Of course, the use of drones also leads to other conflicts with private persons. In the following part of the series "UAS and Law" you will learn what consequences can result from a breach of the law, what defensive and protective measures private individuals can take and how a drone launch is judged under criminal law. ‍
‍
Note to reader: This blog post reflects legal analysis from Germany, the European Union and Switzerland. Laws will vary across different countries. The information provided on this website does not, and is not intended to, constitute legal advice; instead, all information, content, and materials available on this site are for general informational purposes only. Information on this website may not constitute the most up-to-date legal or other information. Readers of this website should contact their attorney to obtain advice with respect to any particular legal matter.
‍