Dedrone is excited to release DroneTracker 3.5, the drone detection industry's response to understanding airspace activity and ensuring that protected sites are aware of all drone activity overhead, whether it be a single or orchestrated drone incursion.
Drone swarms, or more than three drones in a single area, have been demonstrated in action in modern military settings for surveillance and delivery. Pilots who operate more than one drone at a time can expand their reach and impact to an area, whether to support disaster response and recovery, drop contraband at a correctional facility, distract law enforcement from their operations, or threaten the security of a military base.
No airspace is immune to drone threats. This is why we are continually advancing DroneTracker to ensure our customers can protect their assets against the growing threat of unauthorized drones in their airspace. Our software platform detects, localizes, and tracks simultaneous drones and swarms to protect against advanced drone threats. DroneTracker 3.5, hosted in the cloud or on-premise, uses Dedrone's DroneDNA database to recognize and classify RF, WiFi, and non-WiFi drones.
Here's what's new with DroneTracker 3.5:
Localization of multiple drones and remote controls
Check out what DroneTracker 3.5 looks like when there are multiple drones coming in at once. DroneTracker 3.5 uses RF Sensors and video cameras to provide simultaneous detection, including a redesigned alert screen for handling multiple alerts.
‍

Video recording of evidence via automated pan-tilt-zoom tracking of drones
‍As drones maneuver through the airspace, certain PTZ cameras will now be prompted by DroneTracker 3.5 to automatically mimic the movement, providing increased visual awareness of the vehicle's identifying features and payload. In the case of multiple drones, DroneTracker 3.5 will prompt the PTZ camera to intelligently coordinate their behavior. Watch how PTZ cameras follow the airspace action with DroneTracker 3.5, here:
‍
‍New PTZ camera modes for intelligent tracking and detection
PTZ cameras with DroneTracker 3.5 now have three detection and information gathering stages, including:
Passive: No video detection or auto-tracking of drones
Detection: Camera detects drones, but does not track
Tracking: Camera actively gets positions from other sensors (such as RF-100 or RF-300) and automatically tracks the drone flightpath and movement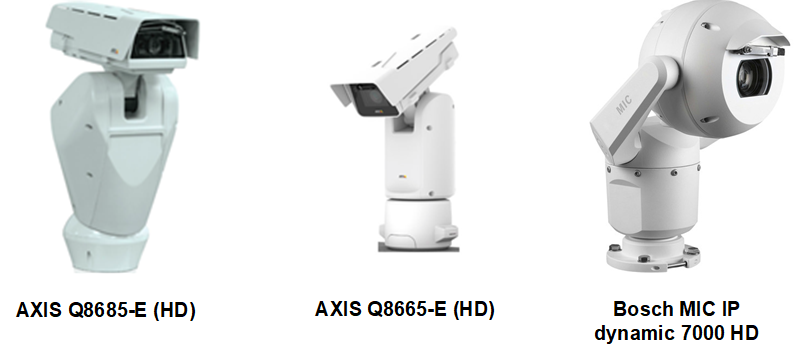 ‍
Map and visualization updates
‍DroneTracker 3.5 now integrates a point of interest (POI) marker with a tactical overlay on the user's map, including real-time calculation of distance and movement of multiple targets. This POI marker helps users calculate the distance between an approaching drone and a specific point in the protected area, or a person's location. DroneTracker 3.5 now supports street, satellite and hybrid maps, allowing for users to view drone alerts and movement on the map of their choice.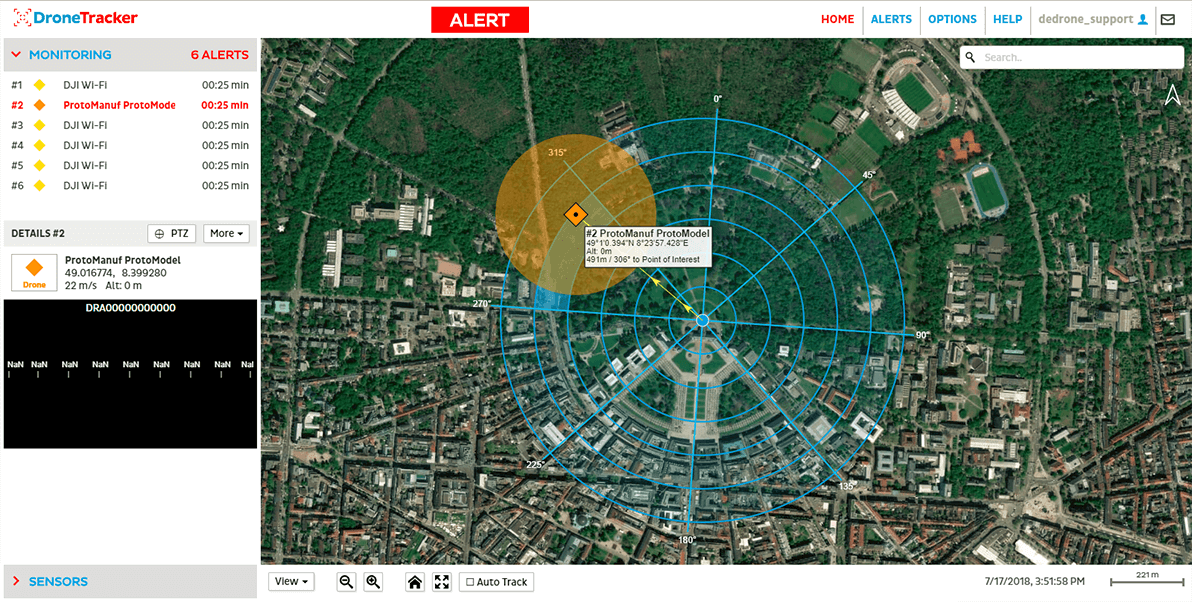 ‍
General performance enhancements
DroneTracker 3.5 builds upon the success of DroneTracker 3, which was released in November 2017, and introduced the industry's first airspace security solution that includes automated summary reporting for instant diagnosis of drone airspace activity. Additional notable updates to DroneTracker 3.5 include:
Improved overall sensor scanning and detection speeds
Improved sensor fusion and data merging for better position calculation
Added new detectors for more drone and remote types
Updated user interface details, including a redesigned alert screen to handle multiple alerts simultaneously
Together, these updates and improvements make the Dedrone solution the most reliable and accurate drone detection, classification platform for security professionals to protect critical assets.