In a corporate environment, assessing a risk and developing appropriate security measures are becoming more sophisticated and analytically driven. Board members and executives rely on the assessment of an organization's threats, the levels of risk, and the security taken against them from the physical security leadership and their teams. This approach to risk assessment remains consistent, even when there are new threats to the organization and security, such as the threats coming from unauthorized drones.
Understanding any threat, drones or otherwise, is one thing, but gathering analytics to measure the risk, and securing against it, is another. The information-gathering process is the first step, and often the most challenging step, for physical security leaders to begin.
However, this process is vital to the security health of any organization. The only way to properly secure an enterprise from any threat is to begin with an accurate measurement of the risk.
Drone Risk Assessments for Corporate Physical Security
The top threat priorities of corporate security teams generally fall into three categories:
Protection of intellectual property, preventing espionage or other unauthorized surveillance
Physical safety of employees
Access control to the facility and other critical sites
There are usually several preventive security measures in place that are based on analytics from risk assessments. What if those procedures and protocols to secure against the threat was put into place without an initial assessment of the risk? It is not that they did not want to include all the risk analytics. In most cases, the data for complete risk analysis is not available.
Without proper data put into their risk assessment, an organization could be vulnerable to their top priority threats without even knowing the scope of the threat.
Extending Corporate Security Analytics to the Lower Airspace
Gates, guards, access control measures, and surveillance cameras have deployed for years to prevent someone from coming onto corporate properties. Some of the risk factors measured when assessing risk include:
Location of the site
Value of assets
Number of reported incidents
Accessibility for someone to get on to the property
But what if the last two, the accessibility and number of incidents, are under-measured?
For organizations with multiple buildings, access points, or locations, the degree of risk can differ significantly, as the response needed to any threat. If the risk of any danger is not measured correctly, the appropriate security measures may not be deployed.
Drone technology is currently being used within most organizations to cut costs and make dangerous jobs safer. However, unauthorized drones have the same ability to deliver some of these same company's most feared threats.
Drones can record with 4K technology, zooming in without being able to be detected by the naked eye, and easily can evade traditional access controls at facilities. If a drone pilot wants to gain knowledge of your operations, manufacturing processes, security shift changes, site layouts, even who is coming and going, they can easily accomplish this undetected.
Drones can also carry payloads ranging from devices to record network access credentials, measurement technology to gain insight into manufacturing processes, and even deliver or drop weapons or other harmful substances.
Without a proper assessment of the risk of drone activity, the risk assessment of the threat will not be accurate. How can you be sure the security measures, procedures, and protocols taken at each site are appropriate to the risk?
Foundational Insights from Dedrone Technology
To build a proper risk assessment, we first have to look the ability of the threat to be delivered by a drone. The first question a corporate security leader needs to confirm is, can a drone deliver any of the threats I am concerned about at my site? If yes, we need to gain insight into drone activity for the particular site.
Dedrone works with corporate physical security teams on assessing the risk of drones and building their risk analysis. Dedrone's counter-drone technology can provide foundational information, including:
The presence of a drone in or around the facility
Type of drone, and if it's a commercially available drone, understand it's capabilities
How long the drone has been in the area
How often or at what times drones appear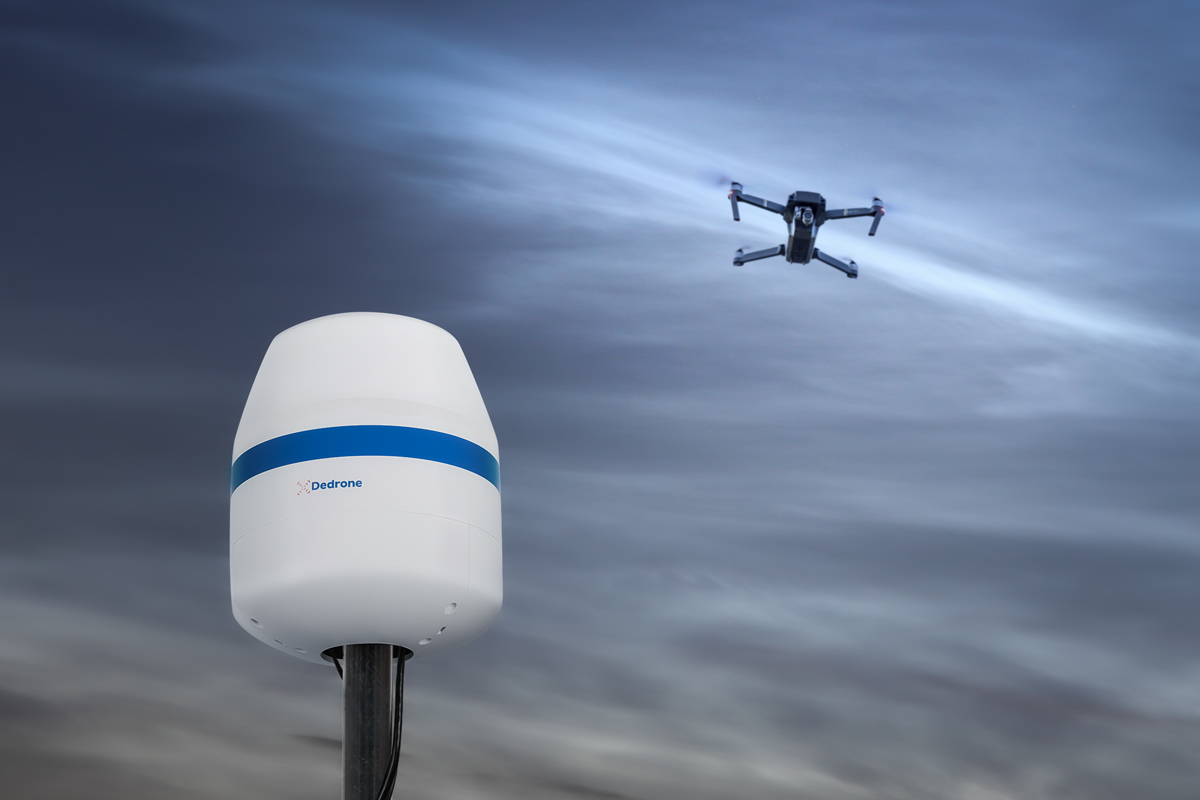 With this data, corporate security teams can start answering simple questions, such as:
Can we correlate drone activity with standard operation activities within the organization such as shift changes or shipping and receiving?
Does the level of attention from outside organizations such as competitors or media change the level of activity of drones?
Are drones appearing during special events outside of normal operations, whether they be quarterly forecast meetings, prior or during major acquisitions or announcements, or arrive when special guests are on-site?
With these insights built into a facility risk assessment, security teams can adequately assess the airspace risk for each site by including simple drone activity data.
First Steps with a Dedrone Corporate Airspace Security Assessment
Only when a corporate security team is accurately aware of their risks, can they turn this data into action.
Dedrone's airspace analytics helps corporate security teams decide if changes need to be made in standard security procedures. This could include changes in shift rotations, shipping and receiving hours, or making sure critical meetings, research and development, and VIP guests have an additional cover or obstructed views.
Ultimately, Dedrone's drone detection technology provides the tools needed for situational awareness during a drone incident. By taking these steps, corporations using Dedrone technology can respond according to their threat level, and develop procedures and protocols to protect the organization.
If you want to be sure you accurately measure the risk of the threats to your corporate campus,headquarters, data centers, manufacturing faculties, or even employee events,you must include drone activity into those risk analytics.
Without the drone activity analytics, the measurements for risk that the organization is facing could be way off. Analytics is the first step in protecting your organizations from threats that drones can deliver; without this step, you will not be able to model your organization's risk accurately.
Jacob Busath is the Enterprise Account Director for Dedrone and can be reached at jacob.busath@dedrone.com